Makeup Brushes
Makeup brushes are essential tools in makeup. What is makeup without makeup brushes? A disaster. So, I made this comprehensive guide to makeup brushes to those who are unfamiliar with them. I hope this will help you in finding the perfect set of brushes for you.
If you have no idea where to start with makeup, please check out my Beginner's Guide to Makeup for a step by step introduction!
There are two types of makeup brushes, synthetic and animal/natural hair. The main difference between the two is the maintenance and use. Basically, animal/natural hair brushes are more high maintenance because they are real hair. You need to condition them if you want them to last longer. As for use, animal hair is better used for powder application because the fiber of natural hair grips on to the product better. Synthetic brushes are not as high maintenance and are better used for cream and liquid formulas.
FACE MAKEUP BRUSHES
Foundation brushes
These brushes are used to apply your foundation, whether it's liquid, cream, powder, or mineral.
Classic foundation brush – Advantage: Quick application of foundation including crease and corners of the face; Disadvantage: Streaking is common
Stippling brush – Advantage: It has an air brush finish; Disadvantage: It's tedious and time consuming
Flat top brush/Buffing brush – Advantage: They are very easy to use and easily blends the product in a short period of time; Disadvantage: It won't be able to have precise application on creases and nooks on the face.
Concealer Brush
This makeup brush is used to apply concealer. Since most concealers come in liquid or cream form, concealer brushes have synthetic hair.
Powder brush/All-over face brush
This makeup brush is used to apply setting powder on your face. You can also use this to blend everything on your face. This kind of brush is big, fluffy, and thick.
Kabuki brush
Kabuki brushes are said to be all-around brushes. They are widely used because they are so handy and they are small enough to carry around. It's used for applying setting powder, touch ups, and maybe even blush.
Fan Brush
Fan brushes can be used to apply blush, setting powder, or brush off  fall outs. It's a versatile face brush that is easy to use and very handy.
Angled face brush
This makeup brush is used for contouring the face because it fits the hollows of the cheeks, jaw-line, as well as the temple area. This can also be used to apply blush depending on your preference.
Blush brush
This makeup brush is used to apply blush. It looks like a smaller version of the powder brush.
EYE BRUSHES
Eyeshadow brush
These kind of makeup brushes come in different sizes. It's basically used to apply eye shadow all over the lids. The bigger sized ones can be used to contour the nose.
Smudge brush
The smudge brush can come in a sponge tip form or like the picture above. It's used to smudge out kohl eye liner or even eye shadow.
Blending brush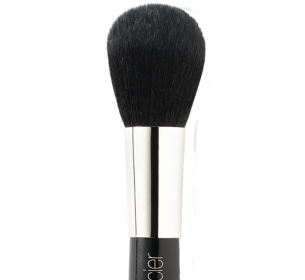 Just like the eye shadow brush, the blending brush also comes in different sizes, depending on what purpose you're going to use it and the size of your lids. For those that have wide-spaced lids, bigger blending brushes like the ones from ELF or even bigger, from Sigma, are very effective, while the dome-shaped ones like the photo above are best for defining the crease a bit more. Small blending brushes are preferable for mono lids or those that do not have much lid space and for defining the outer v of the eyes to give an illusion of depth.
That's how important makeup brushes are. If you want to achieve a certain eye makeup look, you will need specific eye makeup brushes with their specific functions. Comment below if you want me to make a separate post on eye makeup brushes.
Liner brush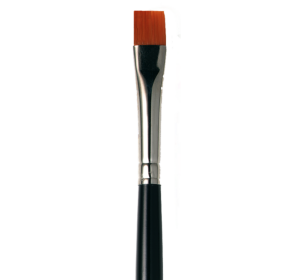 From the name itself, these makeup brushes are used to apply liquid or gel eyeliner. You can also use them to apply powder as your liner. The angled liner brush is also commonly used for the brows.
MISCELLANEOUS BRUSHES
Spooly
A spooly brush can be used to groom and comb the eyebrows as well as the eyelashes.
Brush & comb
This combo brush must be familiar to you because it's always part of a basic makeup brush set, whether it's a complete one or just the really basic ones. This is used to groom the eyebrows. The brush is used to blend out the eyebrow pencil when filling in the brows.
Those are the common makeup brushes I know and I hope that this has been helpful to you. If you have any questions about this post, feel free to comment below or email me. Don't forget to check out my video where I give additional tips on choosing your very own makeup brushes.
Remember that if you are slowly getting into makeup, makeup brushes are one of the main things you need to invest on. Don't settle for low quality ones that will only make your life miserable and your face a complete mess. Find the right makeup brushes for you!
I'll see you in my next post.